access your ics asset inventory with REST & JSON
Multiply the value of your asset data by integration with existing enterprise software
How many software applications and platforms in your organization could benefit from accessing accurate and detailed OT asset data? Chances are, it's more than one. If you are running anything of the following:
– a service management solution such as ServiceNow,
– an IT asset management system like ARS,
– a SIEM product such as Splunk or QRadar,
you can benefit big time by pulling OT asset and configuration data from OT-BASE automatically.  OT-BASE was designed to integrate with your existing IT infrastructure and with custom applications.
rest api for dynamic integration
REST, or Representational State Transfer, is the undisputed leader in Web APIs. And that's for a good reason: It is so much simpler than all its predecessors. Virtually every contemporary Web application today supports REST, and OT-BASE is no exception.
You can use the REST API in OT-BASE to query and modify device data. The counterpart that you use may be the popular Postman application, a SIEM solution, a curl call, custom-built Python programs, you name it.
Each API call is authenticated and subject to the access control settings for the given account. This way, you can control read and write permissions even for automated use.
Watch the videos to see how it works  →
json bulk upload/download
When you want to export or import large amounts of inventory items, OT-BASE offers an alternative to the REST API. You can export a full inventory as one flat JSON file. In a similar manner, you can import large chunks of existing inventories as JSON files.
In other words, OT-BASE supports truly Portable Inventory Data.
Exported from OT-BASE, such data can then, as an example, be processed by a report generator like Carbone.io. One use case where this feature comes handy is for consultants who use the SaaS version of OT-BASE — OT-BASE Cloud — and want to produce reports for their clients that can be printed out.
Watch the video to see how it works  →
push your ot-base asset inventory into elasticsearch
Do you use Elasticsearch? If yes, why not index your OT asset inventory data as well? That's a matter of minutes with OT-BASE. Simply import a JSON bulk export from OT-BASE, which is done within minutes.
Use the Kibana user interface to execute complex searches and to create fancy dashboards.
Watch the video to see how it works  →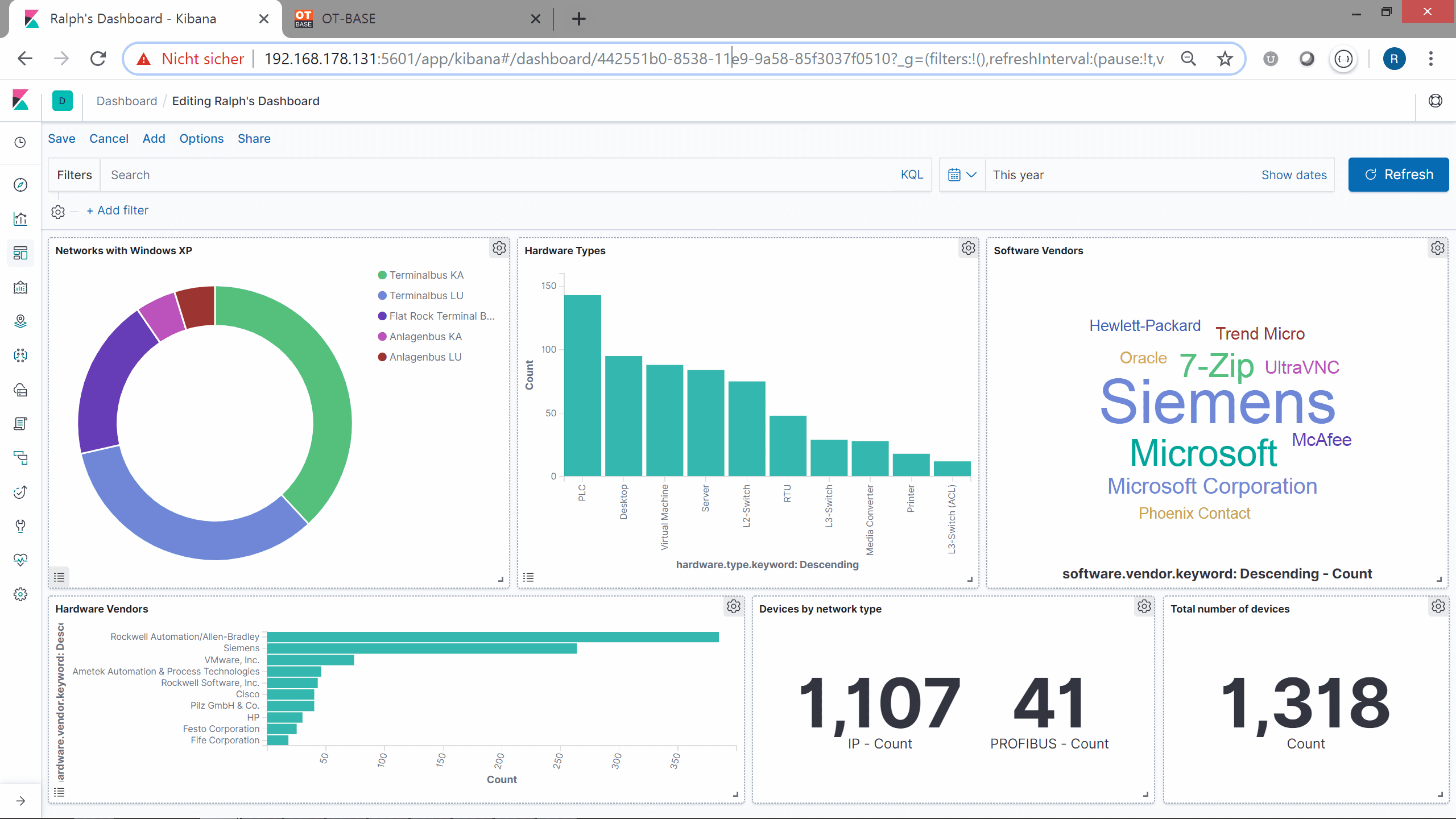 Download the OT-BASE asset discovery evaluation software
Check out OT-BASE Asset Discovery in your own environment. Fully functional 90-day trial for MS-Windows 7 or higher.
Identify, Inventory, Manage.