Imagine a fully transparent digital OT infrastructure
Imagine you had full visibility of your mission-critical OT networks and software configurations. Imagine you could search for specific software versions in a pool of several thousand digital components within seconds. Imagine you could monitor digital configuration change and network data flow. Imagine you had a precision tool to specify planned digital system extensions and match spec vs. reality.
A central Configuration Management Database (CMDB)
specifically designed for Operations Technology
WITHOUT OT-BASE
Have you seen this: Configuration details of mission-critical control networks, PLC configuration, software versions etc. are scattered across dispersed Excel spreadsheets, Visio diagrams, Word and PDF documents, and wiring diagrams. Located in different folders, on different servers, produced by different individuals. Data is partially inconsistent. Retrieving essential configuration details can take hours or even days.
WITH OT-BASE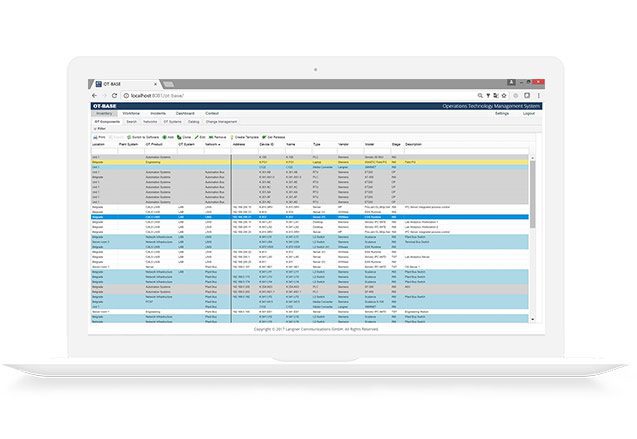 OT-BASE consolidates OT configuration details in a central CMDB, accessible by web browser and protected by access control. It contains all the hybrid information such as installed software, server virtualization, network a and data flow, that cannot be represented in two-dimensional tables. On top of that, OT-BASE maintains a detailed configuration history and alerts you about configuration drift.
Interactive System Diagrams
Virtually no OT engineer has complete and accurate diagrams of their critical control networks. That might not be a problem as long as your networks are small and simple, but it's a non-starter for the IIoT. In OT-BASE, you get fully interactive network and data flow diagrams with zoom-in and drill-down capability. No matter how complex your networks get, OT-BASE allows you to stay in control.
Configuration Auto-Discovery and Reference Architectures
OT-BASE comes with various options for configuration auto-discovery. For example, a software agent for Windows and Linux endpoints automatically collects software configuration details. A network appliance monitors your network and auto-discovers network architecture and endpoint types. All configuration data is consolidated on a collector which reports to the central OT-BASE server via a unidirectional link.
Configuration auto-discovery isn't just useful for initial CMDB population but also for continuous monitoring. This way OT-BASE can alert you about any unauthorized configuration change, catching well-intended but unannounced changes as well as sophisticated cyber attacks.
But with the IIoT, controlling what you already have isn't enough — since the big wave of new digital devices is just in the planning stage, unaccessible for monitoring gear. For this reason, OT-BASE also gives you precision methods to specify digital reference architectures which can then be used in RFP specs, and for auditing during FAT and SAT.
Introducing the OT-BASE OT Configuration Management System