OT/ICS asset management with ACTIVE discovery for better results at lower cost
The rumor that active OT discovery was unsafe is thoroughly debunked. Build a deep OT asset inventory without having to install and maintain new hardware in every subnet. Get more comprehensive and accurate asset data, including network topology.
The source of truth for OT and network configuration
Managing the OT infrastructure of a large enterprise is an interdisciplinary team effort. Yet many companies don't have the technology for efficient collaboration between engineers, maintenance, IT, and cyber security. Never did this become more clear than when many were forced to work from home.
The OT-BASE OT Asset Management System automatically collects OT configuration details and makes them accessible for the whole team, no matter if in different departments, at a home office, or at a contractor's location.
Comprehensive asset details.
Due to the active probing technology used by OT-BASE, you get all asset details, such as firmware version, serial number, network topology, installed security patches and so on.
Software-only solution. OT-BASE doesn't require network monitoring appliances and SPAN ports. It doesn't require you to install new "detection networks" either.
Remote discovery via routing. There's no need to install the OT-BASE Asset Discovery software in each and every subnet. Great for serverless infrastructures where there's no suitable hosting option in the target environment!
Integrated with IT. OT-BASE allows IT applications to pull asset information via a powerful REST API. This way you can easily leverage OT asset details in Splunk, Elasticsearch, QRadar, ServiceNow, SAP, or custom built applications.
Incomplete, outdated Excel, Visio & wiring diagrams: Unsuited for collaboration and remote access
Configuration details of control networks, PLCs, software versions etc. are scattered across dispersed files. Stored in different folders, on different servers, and locked in silos. Data acquisition is manual, resulting in incomplete and outdated information. Workflow automation is completely missing. It's like
being stuck in the Nineties
.
Designed for complex OT/ICS infrastructures and collaboration, always up-to-date configuration details
Automatic discovery of the identity and configuration of your digital OT assets and networks, locally and remote. Consolidation of OT configuration details in a central platform, accessible by web browser and REST API. System details are no longer known to individual engineers only, but are instantly available to every team member,
making the team more efficient
.
Seamless collaboration between engineers, admins, contractors, and threat hunters
Unlike "ICS detection" solutions which put all the emphasis on hypothetical cyber attacks and the alleged threat actors behind them, OT-BASE focuses on the people responsible for keeping OT infrastructures reliable, safe, and secure.
OT-BASE helps engineers, maintenance specialists, system administrators, and auditors to get more stuff done in less time. It covers the most basic (yet important and time consuming) activities such as IP address management as well as the most complex tasks, such as mapping multi-site network topoligies.
It will make you more efficient, and make your work more fun, too — because nobody likes to work with inappropriate tools. OT-BASE also opens up a whole new level of teamwork because you can share OT insights and configuration details with coworkers, contractors, and vendors.
ACTIVE discovery for better results at lower cost
Unlike the first generation of ICS detection tools that use passive scanning, OT-BASE Asset Discovery actively probes endpoints and network gear using legitimate and safe protocols which were intended just for this purpose. This way, OT-BASE builds a deep asset inventory that tells the full story: About your network topology, installed software products and versions, security patches not installed, firmware versions, and more. This also frees you from installing expensive network monitoring hardware in every single subnet.
No hardware appliances
OT-BASE is a software-only product that discovers your network topology, device identity, hardware and software configuration, and data flow.
Selective Probing
OT-BASE uses legitimate standard protocols such as SNMP, WMI, Ethernet/IP. It provides configuration details that passive scanning can't.
Routing supported
OT-BASE Asset Discovery can discover devices in remote networks — both by IP routing and CIP Route Browsing.
Periodic monitoring
OT-BASE automatically maintains a configuration history for every device. Review all configuration changes instantly.
"Passive monitoring will not be used to create and maintain an asset inventory.
Approaches like Langner's active communication with the devices, combined with manual entry and adjustment, is what will lead to the single source of truth asset inventory." Dale Peterson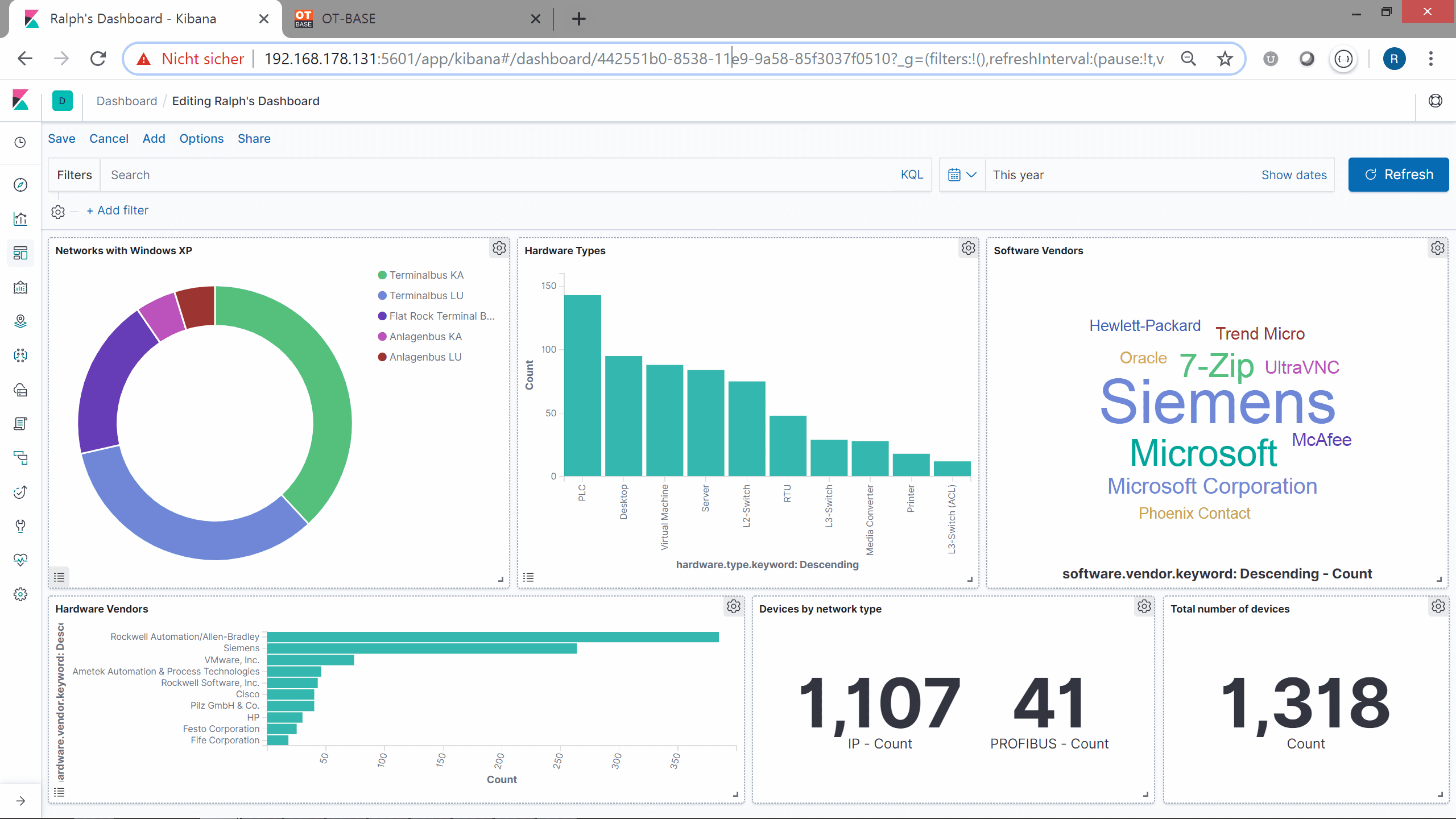 Integrated with IT security
Chances are that there is more than one enterprise solution in your organization which also stores OT asset data — or would like to do so! Examples are IT asset management systems such as BMC ARS and IBM Maximo. Or service management platforms such as ServiceNow. And you may also want to analyze OT configurations and events using Splunk or Elasticsearch. What you don't want is to maintain asset information in multiple places.
OT-BASE integrates seamlessly with your existing IT infrastructure and with custom apps.
We're constantly enhancing OT-BASE and release product updates every month. The OT asset management story has only just begun.
Integrated in a policy framework
Technology alone doesn't make your OT infrastructure more secure if not backed by a set of sound policies. OT-BASE is fully integrated with a comprehensive OT security program that takes the guesswork out of implementing IEC 62443, ISO 27k, NIST CSF or other standards, and shows you exactly how to complement a powerful OT asset management system with policies, procedures, and metrics. It's called the
Simple Cyber Governance Program

(SCGP)
and it's used for years in multiple critical infrastructure sectors, including nuclear.
The Simple Cyber Governance Program shows you in detail, step by step, how to arrive at sustainable OT security, and how to leverage OT-BASE for maintaining a solid cyber security posture.
Priced around customer value,
on-premise and SaaS
OT-BASE is licensed based on volume. You pay for the number of digital devices, regardless of the number of users, networks, or sites.
License fee per device degrades with the number of devices. The more devices you manage with OT-BASE, the lower the cost per device. Best of all, if you manage multiple sites with OT-BASE, license fees are calculated based on the cummulative number of devices, not based on the number of devices per site.
You have the choice between on-premise and SaaS. The OT-BASE cloud version is also an attractive platform for consultants who do asset inventories as a service. Inquire for more information!
Go to a full scale automated OT asset inventory in these three steps:
Step 1
OT-BASE Asset discovery evaluation (
do this now

)
Download the free OT-BASE Asset Discovery evaluation software. Check it out in your testbed, in your office network, and in selected process networks. You will see results within the first hour. Discuss results with your fellow engineers.
Step 2
OT-BASE Asset center proof-of-concept
In a proof-of-concept, see what your asset discovery results look like in OT-BASE Asset Center. Get a limited, inexpensive subscription for OT-BASE Cloud, where you can import and process discovery results. In the unlikely case that you shouldn't like OT-BASE Asset Center good enough,
you can still export all discovery results to Excel and JSON
and be much better off compared to your previous outdated Excel spreadsheets for asset data and IP lists.
If you don't have an even minimalistic budget, send us your discovery files and we will give you and your team (and your boss) an impression of Asset Center workflows with your data in a web conference. Usually this results in budget for a proof-of-concept being made available.
For going to production, you can simply keep your OT-BASE Cloud subscription, or purchase a perpetual license for an on-premise version of OT-BASE Asset Center. The on-prem version is functionally identical to the cloud version. Whatever path you choose, we will assist you in getting top results out of your OT-BASE installation.
THE OT ASSET MANAGEMENT SYSTEM