OT/ICS asset management software that scales
Hundreds of thousands of devices. Thousands of networks. Dozens of sites. Minute configuration details and network topologies. Accessible from the factory floor, from IT platforms, and from the home office.
If you think OT asset management is just about cyber security, you are missing out.
When your company's success, and your team's efficiency, depend on how well you understand and manage tens of thousands of digital OT devices, you need a modern tool that was specifically designed to do the job: The OT-BASE OT asset management system. It's the ultimate enabler for complex IIOT/Industry 4.0 environments, in times when online collaboration became a necessity.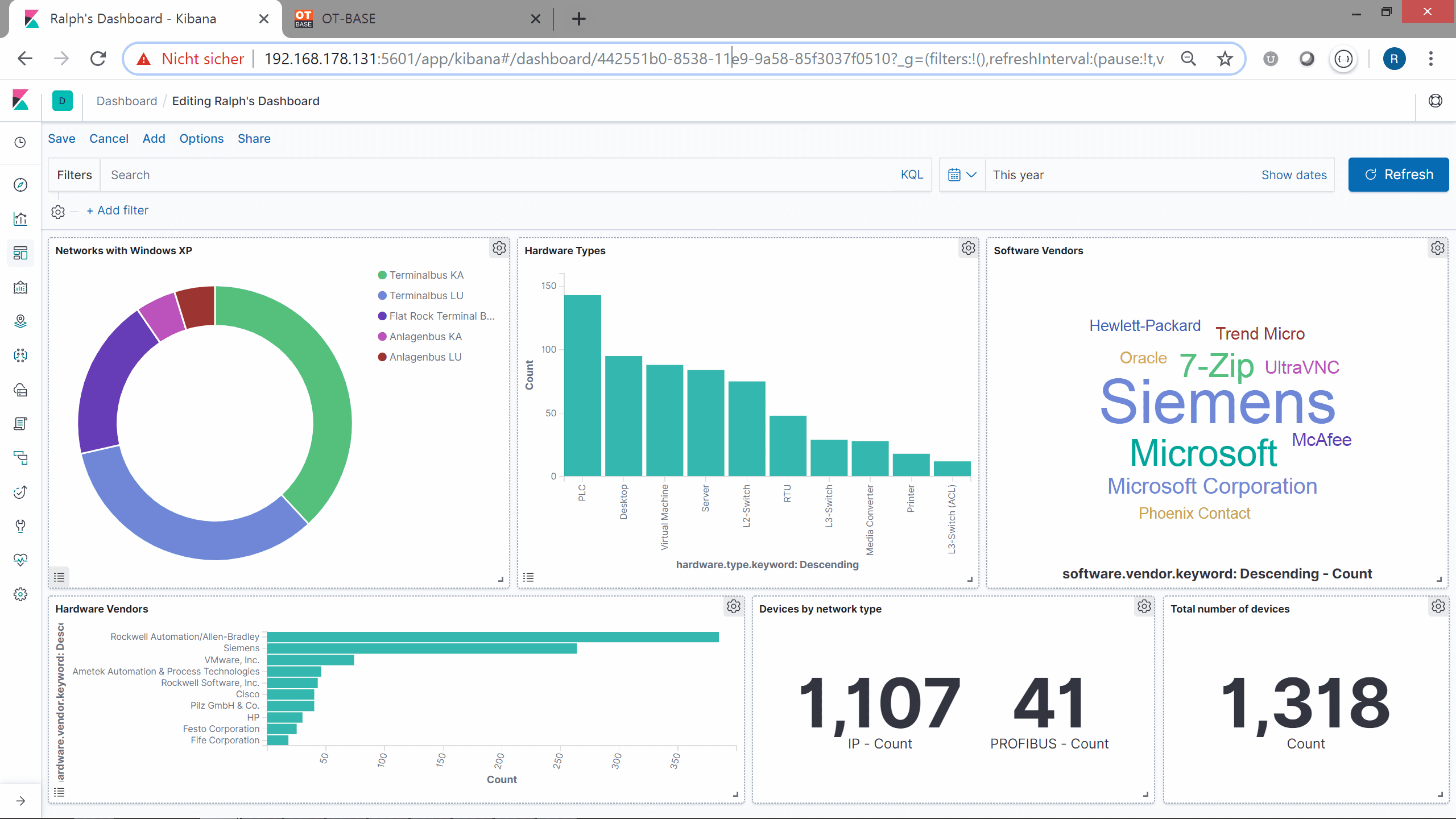 A full stack OT management solution.
Understand your critical OT infrastructure from the big picture down to the most minute configuration detail. Plan configuration change, introduce and new systems in a predictable and auditable process. Take full advantage of collaboration even when working from home. Waste less time on boring tasks that can be automated. Become more efficient and have more time to focus on stuff that really matters.
OT Asset Management
Build a full scale deep OT asset inventory automatically without having to install network appliances.
OT Network Management
Automatically discover network topology, including field busses. Detect new devices on the network. More >
OT System Management
Track configuration drift for production lines and DCS. Plan new systems using a straightforward workflow.
OT Vulnerability Management
Monitor new vulnerabilities for your installed base as they come in. Explore security patch consistency. More >
OT Change Management
Plan and track configuration change, using a consistent workflow with authorization levels.
OT Problem Management
Make engineers aware of known problems such as version incompatibility across the global fleet.
How is OT-BASE different from "ICS Detection" products?
There are around 30 products in the "ICS Detection" category, but OT-BASE isn't one of them. You may have a hard time understanding how one ICS Detection product is different from the next, but it's easy to see how OT-BASE is different from any of those. We don't even claim to be better — we are targeting different customers and use cases.
The video helps you to determine if OT-BASE may be better for you.
Attempting to manage growing OT/ICS networks with office applications and manual data entry is not a strategy. It's a waste of time.
Do you use manually maintained Excel and Visio documents to manage your OT networks? Then you are wasting precious resources. The OT-BASE OT Asset Management System automatically collects OT configuration details and makes them accessible for the whole team, no matter if in different departments, at a home office, or at a contractor's location.
Incomplete, outdated Excel, Visio & wiring diagrams: Unsuited for collaboration and remote access
Configuration details of control networks, PLCs, software versions etc. are scattered across dispersed files. Stored in different folders, on different servers, and locked in silos. Data acquisition is manual, resulting in incomplete and outdated information. Workflow automation is completely missing. It's like
being stuck in the Nineties
.
Designed for complex OT/ICS infrastructures and collaboration, always up-to-date configuration details
Automatic discovery of the identity and configuration of your digital OT assets and networks, locally and remote. Consolidation of OT configuration details in a central platform, accessible by web browser and REST API. System details are no longer known to individual engineers only, but are instantly available to every team member,
making the team more efficient
.
Online collaboration between engineers, admins, contractors, and threat hunters.
Unlike "ICS detection" solutions which put all the emphasis on hypothetical cyber attacks and the alleged threat actors behind them, OT-BASE focuses on the people responsible for keeping OT infrastructures reliable, safe, and secure.
OT-BASE helps engineers, maintenance specialists, system administrators, and auditors to get more stuff done in less time. It covers the most basic (yet important and time consuming) activities such as IP address management as well as the most complex tasks, such as mapping multi-site network topologies.
Check out the network management functions in OT-BASE >
OT-BASE will make you more efficient, and make your work more fun, too — because nobody likes to work with inappropriate tools. It also opens up a whole new level of online collaboration because you can share OT insights and configuration details with coworkers, contractors, and vendors.
Your new window into your installed OT base. 
Inspect OT configuration for a particular cabinet, for a specific production line, a whole production site, or your global operations. Detailed asset data is just a mouse click away.
Quick search
Enter IP address, serial number, DNS name, MAC address of a device you are interested in. Or network name, system name (e.g. "line 5"), site name, cabinet id.
List/products tabs
Switch between list of individual devices or installed OT products
Main menu
Select between inventory, homepage (shows changes during last 7 days), workflows, and user management
Scope limiter
Limit the scope of the list output to a specific location, device group etc., or combinations thereof (collapsable)
Filter fields
Type anything in the filter field of a column and the device list is filtered for matching results as you type
Customizable columns
Click on a column header to reverse sorting order. Right-click to add or remove fields. Adjust column width to your preference.
Device counter
Shows you the number of devices in the device list
Personal settings
Lets you change your password, national language, and log out
Sidebar
Select which view on your inventory you want to use: Hardware, software, systems (e.g. production lines), networks (including topology diagrams), locations
Device list
Scroll down the list, select the device you are interested in, and double-click on the entry to see the comprehensive device profile
Watch the video: 1+ hour introduction into the OT asset inventory in OT-BASE
Secure de-central asset discovery with
24h
update cycles
The unique discovery technology used by OT-BASE allows you to securely inventory thousands of networks with 24h accuracy. A swarm of autonomous discovery nodes (no appliances, no agents) that are embedded in your process network periodically probe your devices for configuration changes. Results are sent outbound to OT-BASE Asset Center as an encrypted file. This way you don't have to open firewalls for inbound traffic, and you can even discover behind data diodes and DMZs.
"Passive monitoring will not be used to create and maintain an asset inventory.
Approaches like Langner's active communication with the devices, combined with manual entry and adjustment, is what will lead to the single source of truth asset inventory."
N

Secure de-centralized architecture

N

No hardware appliances

N

Selective probing

N

Remote discovery

N

Automatic 24h update cycle

N

No software agents
Gone are the days when asset data was locked in a silo. The more you can integrate with existing platforms, and share with other users, the more value you get out of your data. Workflows become streamlined. Users become more efficient. Projects are finished earlier.
Find the license plan that's right for you.
OT-BASE is licensed based on volume. You pay for the number of digital devices, regardless of the number of users, networks, or sites.
License fee per device degrades with the number of devices. The more devices you manage with OT-BASE, the lower the cost per device. Best of all, if you manage multiple sites with OT-BASE, license fees are calculated based on the cummulative number of devices, not based on the number of devices per site.
You can choose between three different license plans, picking the one that best fits your budgetary requirements. 
Perpetual on-premise license (CAPEX spending)
By purchasing a perpetual license, you have the right to use the software indefinitely. License cost is paid upfront. Technical support and access to version upgrades is sold separately and is mandatory for the first year. After the end of the first year, you have the option to purchase yearly ongoing maintenance and support.
Annual on-premise subscription (OPEX spending)
With an annual subscription, you pay to use the software on premise for one year with the right to renew at the end of the period. During the term of your subscription, you get technical support and access to version upgrades. The cost of the subscription is less than the upfront cost of a perpetual license; however, at the expiration of the term, you no longer have the right to use the software.
Monthly Cloud subscription (project based)
With a subscription to OT-BASE Cloud, you can use OT-BASE in the Cloud, and can cancel your subscription to the end of the month. At the end of each month you will be billed for the maximum number of devices in OT-BASE during that calender month. During the term of your subscription, you get technical support, and OT-BASE Asset Center will automatically be updated for you. This license plan is most often used by consultans / service providers who use OT-BASE on a project basis to conduct asset inventories and cyber risk assessments.
Go to Youtube channel
Go to OT-BASE Help Center
Contact sales
Introduce OT-BASE in your company in these three steps.
Check out OT-BASE Asset Discovery
Download the free OT-BASE Asset Discovery evaluation software. Asset Discovery is only a small part of OT-BASE, but it allows you to validate our discovery accuracy. Check it out in your testbed, in your office network, and in selected process networks. You will see results within the first hour.
Do a time limited PoC in the Cloud
Sign up for OT-BASE Cloud, where you can upload discovery results and see what they look like in OT-BASE Asset Center. Use OT-BASE Cloud for a month or longer. Even if you should want to discontinue your PoC, you can still keep all your exported data, including Excel inventories and Visio network topology maps.
Transition to on-premise use
When you and your team feel confident that OT-BASE is the right solution for you, migrate your data from the Cloud to an on-premise installation of OT-BASE for permanent use.