On-premise OT/ICS asset management software for large enterprises
Over 100k devices. Thousands of networks. Dozens of sites. Minute configuration details and network topologies. Accessible from the factory floor, from IT platforms, and from the home office. OTbase.
The fastest way to go from Excel tables to a comprehensive, up to date global OT asset inventory
Ye olde OT asset inventory: Outdated, incomplete Excel tables
OT asset inventory in OTbase: Automated global data store
In this day and age, if you still try to keep track of your OT assets in an Excel table, you know fairly well that you're doing it wrong. It's simply impossible to manually collect and update thousands of OT devices along with their serial numbers and configuration details.
This is where OTbase comes in. It automatically builds your OT asset inventory and allows for easy data enrichment using your existing Excel spreadsheets. All OT assets will then be stored in a global database on your enterprise network that is fully protected by granular access control.
Best of all, we automatically add vulnerability data and vendor product metadata such as product obselescence status and current firmware version. The resulting data set can easily be shared with other tools such as Power BI, ServiceNow, or Splunk.
Once you've seen it
you will never want to go back.
When your company's success, and your team's efficiency, depend on how well you understand and manage tens of thousands of digital OT devices, you need a modern tool that was specifically designed to do the job: The OTbase OT asset management system with engineering integration. Look at the screen shots and product videos and you will understand why OTbase is used by some of the biggest corporations in Manufacturing and Oil & Gas.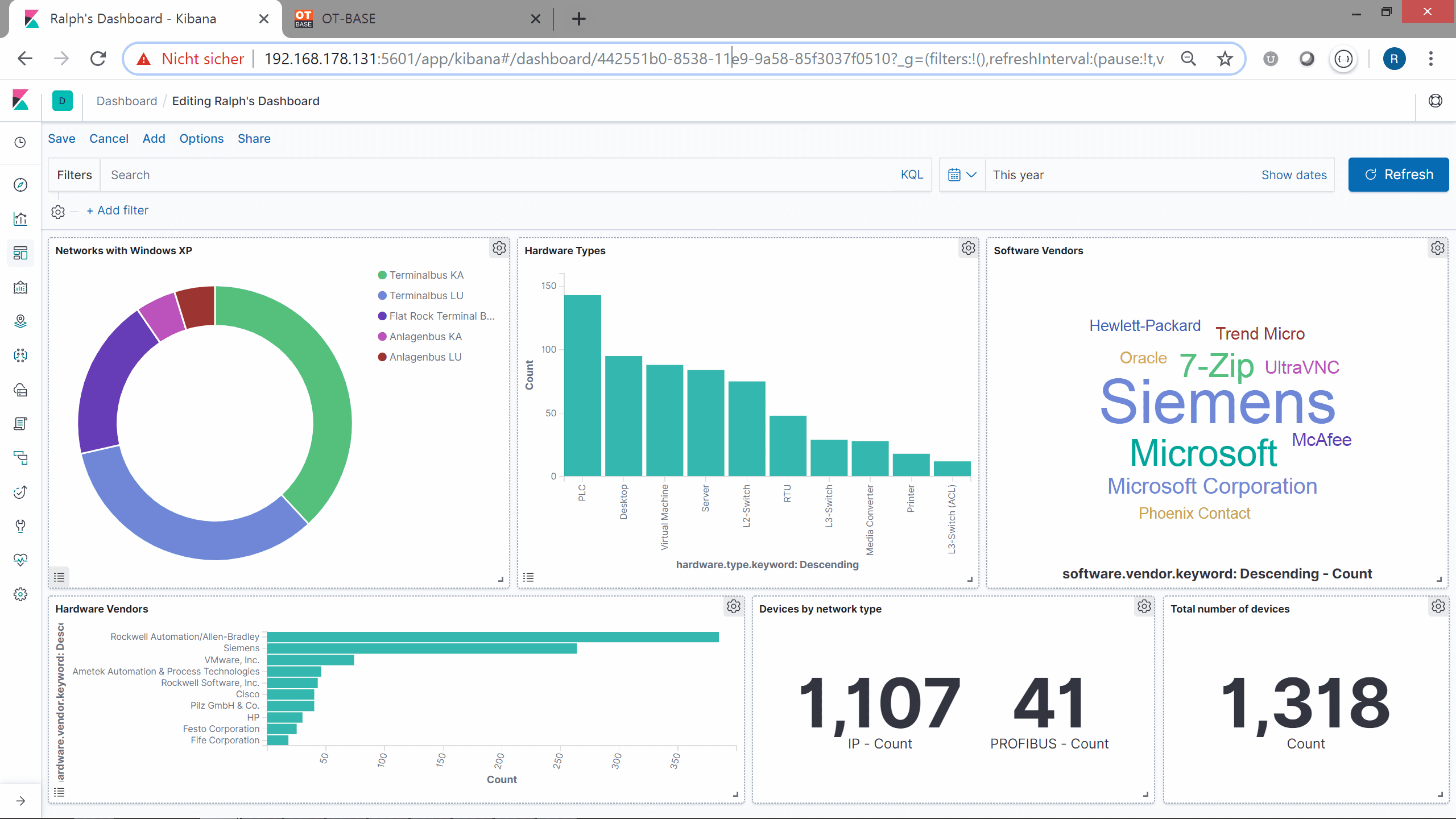 Why OT resilience trumps OT security
The root cause of deficient OT security is not hackers. It's the lack of cyber resilience. Every single OT attack in history exploited basic and well-known flaws in network architecture and security protocol.
When you attempt to detect the hackers when they strike, you will soon find yourself in an endless race chasing the latest threat actor. How about fixing the most common vulnerabilities instead?
But hackers and malware are just one factor challenging the reliability of complex OT networks, and not even the most important. Other, non-malicious factors impact operations almost on a daily basis.
A resilient OT architecture not only keeps the hackers out, it also protects you against accidental misconfiguration, unwanted variance among device configurations for similar purposes, and product obsolescence that catches you by surprise.
The OTbase OT asset management system helps you on your journey towards OT resilience, while at the same time empowering your engineers to achieve more with less.
Where others talk about visibility, we talk about control.
Understand your critical OT infrastructure from the big picture down to the most minute configuration detail. Hardware and software configuration. Network topology. Vulnerabilities and patches. System integrity and health. Product obsolescence. All supported by powerful workflows.
Asset Inventory
Build a full scale deep OT asset inventory automatically without having to install network appliances.
Network Mapping
Automatically discover network topology, including field busses. Detect new devices on the network. More >
Obsolescence Management
Find out within seconds if your critical OT assets are end of life, or will soon be, and furnish a replacement strategy. More>
Vulnerability Management
Monitor new vulnerabilities for your installed base as they come in. Explore security patch consistency. More >
Configuration Management
Plan and track configuration change, using a consistent workflow with authorization levels. More>
Asset Health Tracking
Track the health of critical OT assets and identify problems before they turn into downtime. More>
The nuclear option for OT asset management
There are around 30 products in the "ICS Detection" category, but OT-BASE isn't one of them. You may have a hard time understanding how one ICS Detection product is different from the next, but it's easy to see how OT-BASE is different from all of those.
OTbase is a general purpose asset management system. It's the nuclear option for large corporations which have already tried ICS Detection and passive scanning, but experienced failure and disappointment.
Your new window into your installed OT base.
Inspect OT configuration for a particular cabinet, for a specific production line, a whole production site, or your global operations. Detailed asset data is just a mouse click away.
Quick search
Enter IP address, serial number, DNS name, MAC address of a device you are interested in. Or network name, system name (e.g. "line 5"), site name, cabinet id.
List/products tabs
Switch between list of individual devices or installed OT products
Main menu
Select between inventory, homepage (shows changes during last 7 days), workflows, and user management
Scope limiter
Limit the scope of the list output to a specific location, device group etc., or combinations thereof (collapsable)
Filter fields
Type anything in the filter field of a column and the device list is filtered for matching results as you type
Customizable columns
Click on a column header to reverse sorting order. Right-click to add or remove fields. Adjust column width to your preference.
Device counter
Shows you the number of devices in the device list
Personal settings
Lets you change your password, national language, and log out
Sidebar
Select which view on your inventory you want to use: Hardware, software, systems (e.g. production lines), networks (including topology diagrams), locations
Device list
Scroll down the list, select the device you are interested in, and double-click on the entry to see the comprehensive device profile
Watch the video: 1+ hour introduction into the OT asset inventory in OT-BASE
Splunk Technology Partner
ServiceNow Technology Partner
EtherCAT Technology Group Member